walldoggy

Explanation of the purpose of the weapon damage, outside of just being a pretty color your gun shoots.
Weapon damage comes in four flavors:
- Base (white)
- Arc (blue)
- Void (purple)
- Solar (orange)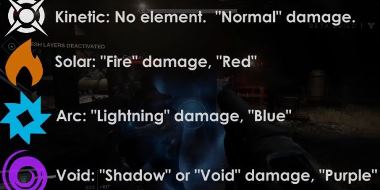 What you need to do is pay close attention to the enemies you are shooting who have shields.   These shields glow one of three colors:  purple, blue, or orange.
Enemies with the following shields:
Vex minotaur = purple / void
Fallen captain = blue / arc
Hive wizard = orange / solar
Cabal centurion = orange/ solar
You want to shoot these enemies when their shield is up with the matching damage type.
  Doing so grants a bonus to damage against the shield, dropping it very fast.  
If you shoot the shield with a different weapon damage type or just base damage, then the shield halves the damage of the weapon.  This turns the enemies into bullet sponges and can quickly drain you of ammo.
It is important to try to collect special and heavy weapons in all forms of damages.  Primary weapons generally don't have elemental damage.
Ideally you fire team coordinates so that all damage types are covered.


Last edited by walldoggy on Wed 01 Oct 2014, 2:34 pm; edited 1 time in total
_________________
My Youtube Channel
|
My Awesome Youtube Montage by Rabbit